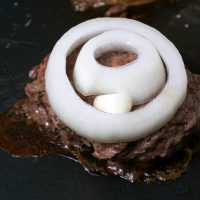 I'm not sure how I feel about this one…
Last year around this time I recall Arby's tested a venison burger. It stands out in my mind because I thought the idea sounded appalling.
Well, good news everyone!
Arby's has just announced it's venison sandwich will be available nationwide starting October 21.
I guess it was a success….
Not only that, but Arby's will also be serving a similar elk sandwich in its Colorado, Wyoming, and Montana restaurants.
Per Arby's, "This limited time sandwich features a thick-cut venison steak marinated in garlic, salt, and pepper and is cooked for three hours to juicy perfection. It's topped with crispy onions and a cabernet steak sauce infused with juniper berries. Served on a toasted star top bun.​​"
Ok, well when they put it like that it sounds pretty good…
Arby's will use a supplier in New Zealand that sells grass-fed free-range venison. 
First off, I'm not entirely sold on a fast-food venison sandwich.
Second of all, I don't like the idea of my mass produced venison being shipped all the way from freakin' NEW ZEALAND!!
Will you try Arby's new venison sandwich??
-Lauren