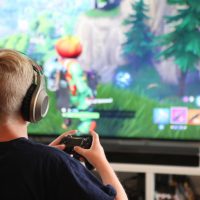 Ok I take back everything bad I ever said about Fortnite!
A teen from the UK won nearly $2.3 million playing Fortnite.
Jaden Ashman is a 15 year old gamer. He and his dutch partner will split the $2.25 million they won after they came in second in the duos sections at the first Fortnite World Cup in New York City.
Because yes that's a thing!
Jaden said at one point his mom threw away his games and broke his headset because he played video games too much.
Who's laughing now mom?!
After the big payday he told him mom this proves he wasn't wasting time playing video games for eight hours a day.
I thought the whole Fortnite fad had kinda cooled off but apparently not!
See, my mom never let us have gaming consoles as kids. She wanted us to go outside or whatever…
Thanks a lot mom! I could be a millionaire but, no!
-Lauren