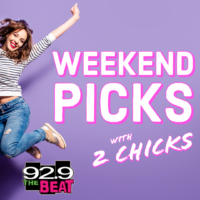 Here's what's going on in the Ozarks during the final weekend of June!
Closings
Pools: Springfield City Pools are still closed. This is due to a hiring freeze, the Park Board is now trying to quickly hire and train lifeguards. Many seasonal jobs are needed as well concessions, umpires, yard work…details at ParkBoard.org
Movies: Movie theatres here in town…Regal, AMC, Alamo, plan to open by mid- July.
Openings
SDC: Silver Dollar City is now open to the public, not just season pass holders. Park capacity is limited and they request you make a reservation. Details are SilverDollarCity.com- White Water and the Showboat Branson Belle are open too!
Library: The Park Central and Fair Grove branches of the Springfield-Greene County Library are now open. They were just doing pickup and drop off before, now this means all branches of the Springfield Library are open!
Food: Most restaurants are open for dine-in service, however, a lot of fast food dining rooms are still closed. We're still operating at 50% capacity as part of Phase 3 for Springfield.
Parks: The Mizumoto Japanese Stroll Garden is now open at Nathaniel Greene!
Streaming
Netflix: Floor is Lava…a reality show on Netflix based on the dumb kids game we'd all play when we were 6. Have you seen it?
Hulu: Charlie's Angels (2019) with Kristen Stewart is available this weekend.
Disney+: We're just holding tight for July 3 when Hamilton the Broadway movie premieres!
Things to Do
Virtual Concert: 92.9 The Beat's virtual concert this week is Katy Perry! From her Witness World Tour. We're playing the songs in the order they were played at the show, just like you were there! Catch the concert this Saturday night at 7p. Streaming, radio, or app!
Drive-Ins: Aurora is now operating at full capacity! Good thing too because they're showing a double feature of Grease and Footloose this weekend. $8 per person, box office opens at 7p, movie starts just after 9p. Carthage: Double feature of Zootopia and Avengers (2012). Again $8 per person, gates at 7:30p and movie at 9:10p.
Discovery Center: Our friends at the Discovery Center open their doors today to members, the public is welcome on Saturday June 27. The kids have lots of pent up energy they need to burn off at the Discovery Center, and they'll probably learn in the process. Limited capacity, of course. They're wiping everything down. Details at DiscoveryCenter.org.