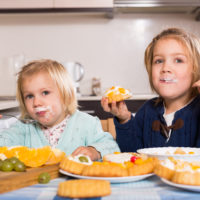 We are 2 chicks…who love food!!
We talk about it all the time, do taste tests, and cant wait to get our hands on the newest products….idk about Lauren, but I also..really enjoy.. food shows!
Like the food network cooking shows or "Guy VS Food" where he travels to do all the crazy food challenges around the world, that one's really good!
Well we had some famous professional eaters here in Springfield this weekend!!
Randy Santel and Katina Dejanett both have a love of food which led them to have love for each other! They're a couple…and their both professional eaters!
So why were they here in Springfield you ask?
Apparently…Norma's Carriage House over on N Glenstone has a food challenge!
They took on…The World's Largest Omelette challenge!! It consists of….. 20 eggs, loaded with ham, bacon, turkey, peppers, onions and tomatoes, two large sides of hashbrowns and four pieces of toast. ALL.THE.CARBS!!
The had to finish it in less than 30 minutes….and…they did!!!
Katina said that she's eaten 16,000 calories in one sitting before, so this was right up her alley…
to put it in perspective for you….just the eggs in this omelet are 1,400 calories which is what most people eat in a whole day!! Not to mention all the meats, hasbrowns, and toast!! That's insane!!
How many eggs do you think you could eat?
I feel like I could do a good amount!! I say that but I probably wouldn't have even put a dent in this omelet!!
Congrats to them and also if anyone else tries to do this challenge, please let us know so we can be there!!
~ Amber Nix