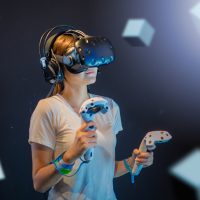 Self-driving cars deliver our groceries…we can rent cars using just our faces…now it's come to exercise!
The latest trend in fitness is VR!
The world's first virtual reality gym is open in San Francisco.
It's called Black Box VR and it features rooms with VR headsets. You then can play several VR games that help you exercise and get fit.
There are also stationary bikes you can ride while wearing the VR headsets.
You never need to join the real world again
I can see how this would be a thing. Amber and I went to Questledge and did the whole VR thing and I can see where fitness would come in.
We played a bar fight game and not only was it crazy real but we were punching zombies and I could see how you could get a real workout in and burn some calories.
I'm just waiting for the next VR venture…how about a VR radio station so I can work from home!!
-Lauren