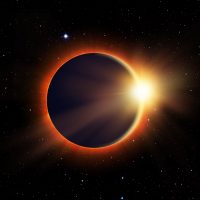 Here's another reason to get excited for the Solar Eclipse happening next week…
Krispy Kreme announced this week that they've created a limited edition "eclipse donut" to coincide with the rare event on Aug. 21.
It's Krispy Kreme's bestselling Original Glazed donut ONLY CHOCOLATE!!! You can get it at select stores on Aug. 19-21.
YES, YES, YES!!! Are you going to get one??? I know I am!!