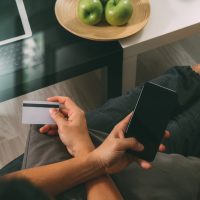 Five months after Apple announced that they would have their own credit card, it's here. But not everyone can get it yet.
A limited number of people were randomly selected by the company to get invites to apply for it.
When its availability is expanded later this month, you'll need to be an iPhone user to use one, or to even get one in the first place.
Here are 10 things to know about the card:
The application process requires iOS 12.4; applications will be approved or declined in less than a minute, and anyone approved can start using the card immediately via their iPhone.
The Apple Card, issued through Goldman Sachs, runs on Mastercard's network; it's both a physical credit card (which is optional) and an Apple Pay feature you can use to pay for things with an iPhone.
Users will get 3% cash back on Apple products, 2% back on Apple Pay purchases, and 1% back on other purchases.
There are no late fees or annual fees, just the 12.99% to 23.99% variable interest rate.
Those who opt for the free physical card will get a white titanium card with the Apple logo in the top left.
The card does not feature credit card numbers. There is also no expiration date or security code printed on it.
There's no credit card activation phone call needed. Just tap your iPhone to the NFC tag that's on the envelope the card arrives in.
It will sync up with the iOS Wallet app and show you how much you've spent, sorted into different categories, and how much interest will be charged if you don't pay off the balance in its entirety.
Users also must set up the Apple Cash feature; they can either save the cash back bonuses they earn or spend the cash immediately after it hits the account each day.
If you lose the physical card, you can lock it or deactivate it from the Wallet app.