Springfield, meet Ben Plate!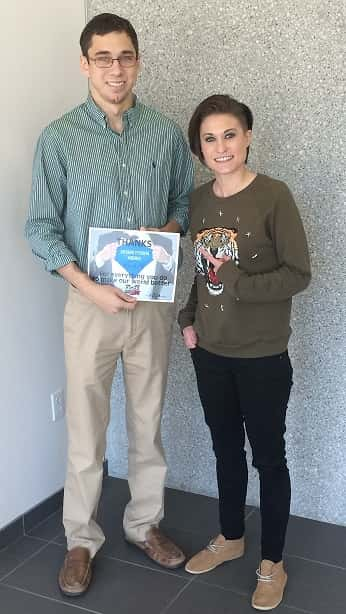 "Family members often say they love each other or would do anything for one another. How often does someone get to truly prove that? My 19 year old brother, a sophomore in college, not only had the chance, but seized the opportunity to show me he cares for me more than I can ever imagine, and in the process became and will remain a hero to me. I was diagnosed with a kidney disease when I was 4 and Ben was almost 8 months old. His upbringing consisted of a lot of hospital visits to see a sick older brother, and quite a few extend stays with friends and family so my parents could care for me. It was incredibly difficult for him, and it was hard for my parents and I because we could do little to help. Nevertheless, Ben excelled at Kickapoo and received a full ride to Truman State, where he now attends. He could finally get away and not have to deal with a sick sibling constantly. That is, until I found out I needed a transplant in October 2013. I refused to tell Ben at first because I didn't want to worry him, but he eventually found out through some friends. He immediately called me and told me I didn't have a choice, he was going to give me a kidney. Since then, he has been working every day to put himself in the best position to give me a kidney this upcoming summer. He's my hero because he finally had the chance to run, to be his own person and forget chronic illness. Instead, as soon as he heard of a need, he jumped at the call and is right there when I need him the most. Not many people can say their 19 year old brother would save their life, but I know I can, because he's going to do it in 6 months."
Submitted by: Chris Plate
 It was really great talking with Ben, meeting Chris, and hearing about their story. What a great way for family to come together and help each other out when it's needed the most. Good luck, boys! My thoughts and prayers are with ya!