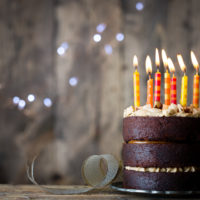 Blowing across a dessert and then serving it to your friends and family isn't the most hygienic thing ever….
In these COVID times, we're having to reassess our daily routines and customs. Chips and dip at parties? Handshakes? And now…birthday cakes!
It's tradition to blow out the candles on your big day, but what about germs?
Good news, the birthday has been saved, you can now buy a cake shield!
William Kay, a Florida dentist, has created what he calls the Top It Cake Shield. It's made from FDA-approved recycled plastics and allows the candles to be placed on top of a box on top of a cake, so you can still blow out candles while keeping the cake germ free.
You then remove the clear box, cut the cake, and there you go- happy birthday!
It does seem kinda silly, but it's not gonna hurt anyone…if anything it's actually helpful.
Do you think 'Cake Shields' will become part of the custom?