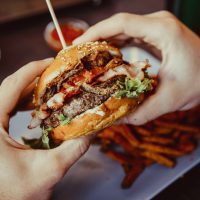 The new Black Sheep drive-thru is opening VERY soon!
UPDATE: Black Sheep ASAP is open NOW!
There's still no grand opening date, but the folks at the new Black Sheep spin off on E. Sunshine say they are "looking at the end of this week."
This new scaled-down version of the famous Springfield eatery will be an ideal lunch spot for SpringMO foodies on the go!
Black Sheep ASAP is a new twist on an old favorite: this time there's no fried or grilled chicken.
But don't panic!
Classics like the Ugly Cheeseburger and The Foodie will be included on the menu, as well as new items we haven't seen before.
There will also be 40 seats inside the restaurant, which is an old Sonic Drive-In, if you'd like to stop in for a quick bite!
-Lauren