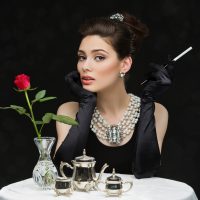 We love the classic movie, but now you actually can have breakfast at the iconic jewelry store!
All your wildest Hollie Golightly fantasies just came true.
Famed jewelers Tiffany and Co. have announced a new fourth floor eatery called the Blue Box Cafe.
Get it? Like the highly-coveted Tiffany Blue box?
Prices are….just like you'd imagine.
The Tiffany's breakfast menu includes, coffee, croissants, avocado toast, buttermilk waffles, truffled eggs or a smoked salmon bagel.
But the cost of the coffee and croissant breakfast is about $29…not including tax and tip!!
The lunch costs $39 and the Tiffany Tea is $49.
That's some expensive breakfast for some expensive taste!
-Lauren