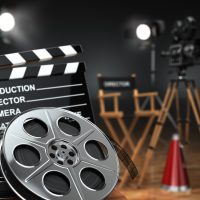 Missouri lawmakers want to bring more movie production to the Show-Me-State!
When I first got to Missouri I was very surprised to learn there was no film tax incentive here. You know where movies get tax breaks for filming in Missouri.
We had that back in Michigan, they shot part of The Dark Knight and other Batman movies in Detroit, go figure! They filmed some Transformers movies there too. They actually filmed the movie The End of the Tour with Jason Segel and Jesse Eisenberg at my old job in Grand Rapids. They took over the whole station, pretty sure my car is in that movie. I locked eyes with Jason Segel! Anyway…
Michigan had great film tax incentives so that's why it really bothered me when shows like Ozark, set in the Lake of the Ozarks- were actually filmed in Georgia, like, come on!
But actually a lot of shows, like The Walking Dead film there because it's cheaper!
I want that for Missouri, so do Missouri lawmakers who are now pushing to bring back the film tax incentive here in Missouri.
I guess at one point we did have it. George Clooney filmed Up in the Air in St. Louis. Ben Affleck spent time in southeast Missouri while filming Gone Girl- that was actually originally a book written by a Missourian.
Rep. Kathy Swan, R-Cape Girardeau, says it's time for a reboot of the tax credit. She's pushing a bill  that would restart a program offering $4.5 million a year in film production tax credits.
Maybe that'll get 'em to come back!
There's so much that goes into those productions, the cast and crew need places to stay, they rent out hotels…they use rental cars…they eat at local restaurants. It's this whole industry that Missouri needs to tap back into!
4.5 million that's not much to start, but it's better than what Missouri is offering now, which is nothing.
I say bring back the film tax incentive! Bring Hollywood to Missouri.
….and let me know when you're casting, because I will totally be a movie extra!
-Lauren