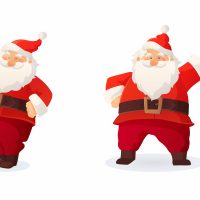 We're at 23 days in our Christmas countdown…I cant believe it's almost here!!
Do you have any special Christmas traditions in your house??
My mom and I always have mimosas Christmas morning before opening anything…and now I do that with my husband while video chatting my family back in Maryland where we cheers together. We also always bake cookies and do gingerbread houses.
There are so many different Christmas traditions in the US…. trimming your Christmas tree, baking, opening presents… But what are traditions around the world like?
I just learned that other countries celebrate very differently!
Although Christmas isn't a national holiday in Japan, it's citizens still celebrate by going to KFC for some fried chicken…this is a real thing!!
in Iceland..kids put their shoes by the chimney and in the morning they'll find candy in them (if they're good) or have shoes full of rotten potatoes if they're bad.
In Finland on Christmas day, families hit up the sauna together.
and in South Africa they have a cookout!
so lots of different traditions, I thought this was cool cause I've never really thought about any of this before!
However you celebrate, enjoy it! Let's end the year on a high note!
~ Amber Nix