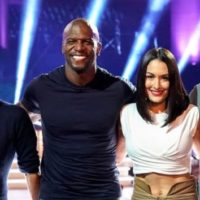 A contestant on NBC's spin-off America's Got Talent: Extreme was hospitalized Thursday evening after a stunt went terribly wrong.
A source for Freemantle Media, which produces the daredevil competition show, tells ABC Audio that escape artist Jonathan Goodwin was injured while performing his act. "He was responsive and was immediately taken to the hospital, where he is continuing to receive medical care," producers said in a statement. "Our thoughts and prayers go out to him and his family as we await further updates on his condition."
TMZ reports Goodwin was suspended 70 feet off the ground, attempting to escape from a straitjacket, when he was crushed between two suspended, swinging cars, which exploded. He reportedly fell and hit his head, says the gossip site, which noted Goodwin was airlifted to a trauma unit.
TMZ claims those who witnessed the "horrifying" accident "thought he was dead."
America's Got Talent: Extreme will be hosted by Terry Crews, and judges will include WWE star Nikki Bella, extreme sports champ Travis Pastrana, and Simon Cowell when the show debuts as part of NBC's upcoming midseason roster.
Copyright © 2021, ABC Audio. All rights reserved.