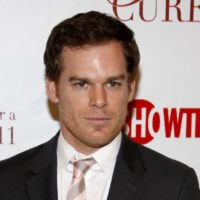 The Dexter revival dropped the first trailer for the upcoming series, as well as a premiee date — Sunday, Nov. 7 2021. The long-awaited reboot will premiere on Showtime and stream on the Showtime app.
Details about the show were revealed at the San Diego Comic-Con panel on Sunday, July 25, featuring star Michael C. Hall and others, discussing the new season. Dexter Season 9, officially titled 'Dexter: New Blood,' will include cast members include John Lithgow as the Trinity Killer, Clancy Brown as Kurt Caldwell, Jamie Chung as Molly Park and Oscar Wahlberg as Zach. Original showrunner Clyde Phillips is returning.
The first eight seasons of Dexter are streaming now on the Showtime app, which is available here with a free trial for new users.
Editorial credit: Tinseltown / Shutterstock.com