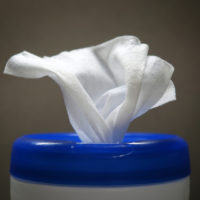 Are you still having trouble finding Clorox wipes?
That's like the ONE item that people are still on the hunt for throughout the pandemic.
Well, bad news, Clorox says store shelves won't fully be restocked with Clorox disinfecting wipes until 2021.
Clorox's CEO says that even though the company typically holds aside extra inventory for flu seasons, they've been unable to keep up with the crazy demand for their disinfecting products specifically the wipes.
Supply for most products, like liquid bleach, will improve dramatically over the next four to six months—but the same does not apply to the wipes.
Part of the issue is that many wipes are made from this polyester spunlace and it's a material currently in short supply as it is also used to make personal protective equipment like masks and medical wipes.
So basically the entire supply chain is stressed… and Clorox says they feel like it's probably going to take until 2021 before they're able to meet demand.
So that means we're going into cold and flu season with less disinfecting products, that doesn't sound good!
But at least toilet paper's back in stock!