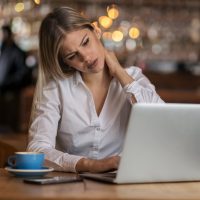 I don't know if I love this technology or hate it, because I think this is all something we struggle with.
There's reportedly a new website that is helping users improve their posture by showing a blurred screen when they start to slouch.
The site is called Fix Posture and it uses a program that can tell where the outline of your body is, therefore it can tell if you're slouching or not.
So of course, this technology requires a camera.
So if you're sitting in front of a computer and you start to slouch the camera will track your motion and the whole screen begins to blur.
As soon as you sit eye level with the screen, relax your shoulders and put your feet flat on the ground- the screen becomes unblurred!
Like I said, I don't know if I love it or hate it  because this would actually get me to sit straight.
I catch myself slouching all the time….in the studio, at my desk, in the car. And I really try to correct myself but like I said, this would totally work for me because it would hit me where it hurts, my technology!
Would this work for you?
-Lauren