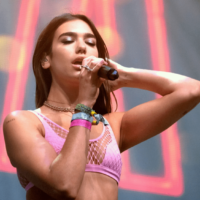 Dua Lipa announced she will hit the road for a North American tour in support of her second studio album 'Future Nostalgia,' starting in 2022. The tour will begin Feb. 9 at the FTX Arena in Miami before wrapping up on April 1 at the Rogers Arena in Vancouver, Canada.  Megan Thee Stallion will be performing at Lipa's concerts in Denver, Tulsa, Okla., and Phoenix, as Caroline Polachek and Lolo Zouaï joining Lipa as special guest performers.
Dua Lipa said in a statement: "I'm so thrilled to tour again and see my angels in person! How amazing that we all get to dance and celebrate together once again. When I was writing Future Nostalgia, I imagined the songs being played in clubs on nights out with your mates. I'm so excited that this fantasy is finally coming true. I can't wait to experience these songs with you together live!"
Tickets go on sale at noon local time Friday, September 17th via Ticketmaster.
Editorial credit: DFP Photographic / Shutterstock.com