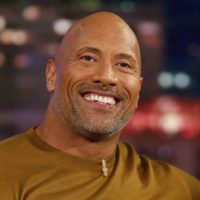 (NOTE LANGUAGE) It's pretty much a fact that parents of young children will have to sit through their fair share of endless kids' songs sing-alongs — "Baby Shark," anyone?
For Dwayne "The Rock" Johnson, however, his three-year-old daughter Tiana made him sit through a never-ending rendition of "Row, Row, Row Your Boat" during a recent car ride.
The singing kept going for so long, the Jungle Cruise star even took out his phone to capture the moment.
"Keep in mind I started shooting this after 15 minutes straight of listening to this song," he captioned the hilarious Saturday video update, which shows Tiana singing away in her car seat. "I even tried to draw the note out at the end to give the feeling that the song was ending… Clearly it wasn't. Ever. Going. To End," the Rock lamented.
The video shows the ultra-relatable moment where Johnson thinks Tiana has run out of steam, but she instead sparks up another round, which causes her father's eyes to momentarily widen in dread.  However, the former WWE star shakes it off by encouraging his little one, "Just keep singing, baby!  I love it!"
The video ends with hr Rock muttering just loud enough for the camera to hear that he thinks "life is but a nightmare," a play on the song's final verse.
While Johnson may never want to hear that nursery rhyme again, he offered some sound advice to parents who may be struggling with a similar problem, which is, "Sometimes we just gotta sit back, laugh and surrender to rowing the boat gently down the f****** stream."
Copyright © 2021, ABC Audio. All rights reserved.