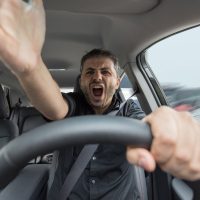 Parents of young and soon to be drivers, here's your chance to save some cash!
Mercy hospital is sponsoring an essay contest to cover the cost of their Alive at 25 driving course.
The contest is open for teens ages 15 to 19 years old.
Students must write a brief essay answering, "What can teens do to create safer roadways and drivers?"
I feel like my answer to that would be to not text and drive.
And texting and driving is not limited to texting, basically just anything on your phone. You know, you're messing with your iPod playlist, like…don't.
Essays must be submitted online to mercy by November 9th and the judges are looking for a personal opinion piece, not just stats.
Anyone can just throw numbers out there, but what they really want are your opinions.
Winners will be announced Wednesday, November 14, 2018 and must have a valid permit before they can enroll in the driving program.
I'm just so surprised that drivers ed is not required in Missouri, it blows my mind.
That's why the drivers are so bad here, sorry not sorry, but it's because they literally don't know the rules of the road!
Like, most Springfield drivers would probably be surprised to know that the center turn lane…..is actually for turning! Not just riding in until you get to your destination.
Yeah, fun fact!
Find contest details here.
-Lauren