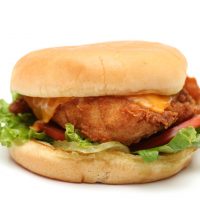 The fast food chain just announced a new promotion with food delivery company DoorDash.
Chick-fil-A is going to give out a free $1 million in chicken sandwiches to promote the launch of its new partnership with food delivery company DoorDash.
On-demand delivery started yesterday at more than 1,100 restaurants in the US.
Customers who order through the DoorDash app or website and use the promo code "CFADELIVERY" on orders of $5 or more will receive one of the free sandwiches!!!
The sandwiches cost $4.99 each so that's quite the deal.
You know me and how much I love Chick-Fil-A. I usually use UberEats, but I am SO downloading DoorDash right this instant.
-Lauren