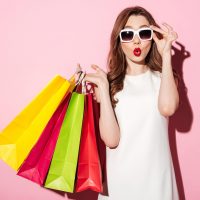 Still in the wake of Black Friday and Cyber Monday, but this year I decided to do something different… I only went shopping for myself! I know it's the season of giving but here are the 3 reasons I don't feel bad about it…
Biggest savings of the year! – Some of the best deals you are going to find on most consumer electronic products and I think you would be crazy not to take advantage of it!
I planned ahead – For this holiday season I decided to buy things throughout the year and spread out the financial burden instead of having it all hit on one day. Plus it feels good to keep that gift giving spirit alive throughout the other seasons of the year. It saved me time, a little bit of money, and made it a little easier to splurge on some great deals!
In and Out – It's so much harder shopping for other people than it is for yourself. If you're looking for something specific and they don't have it you have to scramble to figure something out which draws out the worst part of the shopping season. When you know what you want you can get in, find it, and be back in the comfort of your own home watching your ex's Netflix account!
So if you happened to go a little crazy shopping for yourself this year, don't feel bad for it!