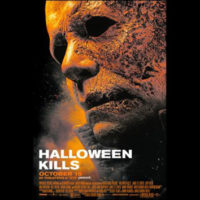 Halloween Kills, the 12th and latest installment in the Halloween horror franchise, slashed its way to the top of the box office — opening with an estimated $50.4 million.
The film, also available via VOD on the Peacock+ streaming service, delivered the highest-grossing opening weekend for a simultaneous release in theaters and on streaming, topping Godzilla vs. Kong's $31.6 million debut back in March.
Overseas, Halloween Kills — starring Jamie Lee Curtis — earned an estimated $5.5 million, bringing its worldwide gross to $55.9 million.
No Time to Die, now in its second week, slipped to second place and grabbed an estimated $24.3 million. That brings its total here in the states to $99.5 million. The latest Bond adventure, which has yet to open in China, is faring much better overseas, where it racked up an estimated $348.3 million so far. Its global tally currently stands at $447.8 million
Landing in third place was Venom: Let There Be Carnage, earning $16.5 million stateside, for a three-week total of $168.1. The film added on another $115.6 million internationally, bringing its global box-office total to $283.7 million.
The Addams Family 2, also available on premium VOD for $19.99, earned an estimated $7.2 million in its third week of release. The animated sequel has collected an estimated $16.2 million overseas, putting its current worldwide haul at $58.5 million.
Rounding out the top five was the long-awaited reunion of Good Will Hunting's Matt Damon and Ben Affleck, whose historical drama The Last Duel fizzled at the box office, delivering an estimated $4.8 million domestically. The news was just as bad internationally, where the Ridley Scott-directed film, which stars Adam Driver and Jodie Comer, added an estimated $4.2 million. That brings its worldwide total to just $9 million.
Copyright © 2021, ABC Audio. All rights reserved.