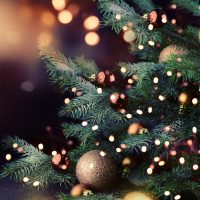 Alright we are, what…19 days away from Christmas so the Christmas light displays are in full effect!!
If your in the holiday spirit and wanting to see some cool lights, there is tonssss to do around the Ozarks!!
For starters the Mizumoto Japanese stroll garden is all lit up on Friday and Saturday nights for just 4 dollar admission. that's pretty cool…
The infamous Bagwell Lights on E. Cambridge St. I've heard about these every year…really cool lights in Springfield brentwood neighborhood, find them on facebook for more info.
You can see Jaxon's Lights on S. Tujunga Drive which that's a 14 year old boys amazing display….
Also if you feel like driving a bit, the promised land zoo in Branson does a drive thru light display. It's 2 miles long and Santa's reindeer are there!! So pretty cool!
Lots of cool lights in the area..so get in the Christmas spirit this weekend and have some holiday fun!