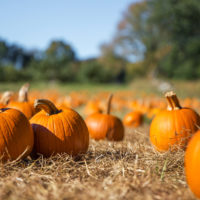 The good news: the pumpkin crop is bountiful this year. The bad news: demand is crazy high!
People in the Ozarks are embracing fall in a big way. For all the fall freaks out there like me- stock up on your pumpkins now!
Last year our pumpkin crop got rained out- all the rain just drowned out the pumpkins and they molded in the fields. Farmers were having to drive to places like Kentucky just to stock up!
But this year it's been hot and dry, and that's produced a good pumpkin crop.
Though experts say you need to buy them while you can because the demand for pumpkins is crazy high this year.
I'm not exactly sure why but I know for me, I've been obsessed with fall for weeks now. I think it's just because there's not much going on right now, so the changing of the seasons is really all i have to look forward to.
Experts say a good pumpkin can last you until Thanksgiving if you pick the right one.Just check for soft spots, brown spots, that sort of thing.
Sidenote-  while we're talking about looking forward to things…..99 days to Christmas!
-Lauren