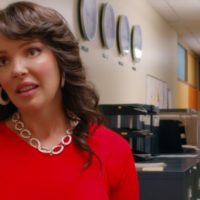 Former Grey's Anatomy star Katherine Heigl is speaking out again, in a social media post in which she revists past comments that branded her "difficult" to work with.
In a lengthy post emblazoned with the logo of the International Alliance of Theatrical Stage Employees (IATSE), the strike-bound showbiz union representing tens of thousands of behind-the-scenes workers, Heigl threw her support behind the union's push for fairer working conditions.
"They have been family…and I have always and will always continue to support and stand by them," Heigl noted.
"…[O]ver ten years ago I was very vocal about the absurdity of the working hours crews and actors were being forced into by production. Even Diane Sawyer…not so kindly informed me 'no one feels sorry for you.'"
"I very publicly and for many…years after got my a** kicked for speaking up," the actress continues. "I let myself be convinced that I was wrong…That speaking out made me seem ungrateful or precious or as if I were 'biting the hand that fed me'."
Today, Heigl declares, "…that nasty insecure voice in me has started to go from a roar to a whisper….So I speak up today and say with zero hesitation or regret…14, 16, 17, 18-hour workdays are NOT safe….They can not and should NO longer be tolerated."
"The number of people who have fallen asleep at the wheel is staggering," Heigel asserts. "The number of accidents that happen on set due to exhaustion is shocking…There is nothing glamorous or sexy about working past the point of exhaustion. There is nothing, NOTHING that warrants pushing yourself into an early grave."
Her post was liked nearly 200,000 times as of Monday morning, by fans, union members, and industry supporters.
Copyright © 2021, ABC Audio. All rights reserved.