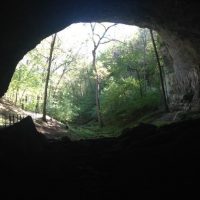 You may know it as the "Show Me State", but I prefer to call it the "Cave State!"
According to Missouri State Park, there are close to 6,400 caves in Missouri.
Of the 6,400, I have visited four here in the Ozarks.
Of course, I've done Fantastic Caverns. That was the first one I crossed off!
Next was Giboney Cave up in Doling Park. The Springfield-Greene County Park Board opens up the caves often for guided tours.
I visited Ash Cave in the Cassville area.
This past Saturday I finally crossed another cave off the list, as I went to tour Smallin Cave.
Saturday turned out to be a beautiful day and we pretty much had the whole place to ourselves!
Jackie, our tour guide, gave us a personalized guided tour since we were the only two in her group! To be honest, I was kinda hoping it would work out that way. I wanted the tour to feel one-on-one.
Not only is the cave gorgeous, but there's so much history there too! Civil War and otherwise.
Even infamous Springfield bad boy Wild Bill Hickok has ties to the Smallin family.
I can only imagine the families that used to gather in the cave and sit beside the creek on a sweltering summer afternoon.
Which cave should I go to next?
-Lauren