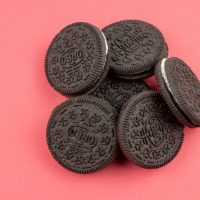 Fool me once…We all love the CLASSIC Oreos, right?
Who doesn't love the winning combination of cookies and cream!
But now I'm over Oreos.
With flavors like Pumpkin Spice, Banana Split, and Birthday Cake…..and the now rumored hot and spicy cinnamon a.k.a. Red Hot flavors….are Oreos even Oreos anymore?
Or did the evolve in to something totally different?
This is where I draw the line.
I'm officially done with Oreos.