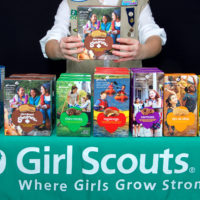 It's the most wonderful time of the year!

Do you know why it's such a good month? Cause its the kickoff of the Girl Scout Cookie season!!!
It started yesterday actually so now the only question is…with covid, how can you get your cookies??
This year for the first time ever, their available for on-demand delivery through Grubhub in select areas. I'm not sure if that's here in Springfield yet cause I don't have it on my phone…but that's rolling out in some places. Also starting Feb. 1, they'll be opening "virtual cookie booths" so you can place a cookie order online.
This year, all your faves are back…thin mints, caramel delites, peanut butter patties, s'mores..and new this year….toast-yay!! Those are supposed to taste like a mini french toast.
I love thin mints, those will always be number 1 in my heart but those caramel delites are a very close second.
Hey parents, if you have a girl scout, let us know how we can get the cookie hookup!!
~ Amber Nix