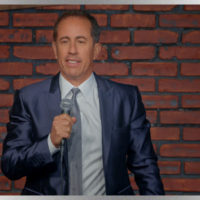 Jerry Seinfeld says it's important to know when to gracefully bow out. Twenty-three years after his iconic sitcom, Seinfeld, aired its last show on May 14, 1998, Seinfeld says he's still convinced that there's no need for a revival.
"Has it happened, could it happen, is it happening, or is it in motion — what kind of motion? When will we see something?," Seinfeld tells ABC Audio of the questions he's often asked about a potential revival. "There's absolutely nothing going on."
Although the award-winning actor considers himself a "nostalgi[c] person" since he still visits his childhood home in Long Island and supports the New York Mets, Seinfeld believes it's important not to live in the past.
"I believe in going forward," he says, before sharing that even if he did do some sort of Seinfeld reboot, he's not sure what it would be about or if it would even "be as good."
"I think we did a good job," he says of the original series.
In fact, Seinfeld believes a reboot could even possibly tarnish his legacy.
"I remember I was in a cab one time and the cab driver said to me, 'Why did you stop doing that show? It was very successful," he recalls. "And I said to him, 'Well… we had done it for nine years and I realized I could go off the air right now. And… I could be a legend in the sitcom world, or I could risk that to make some more money.'"
He continues, "[And] I said, 'What would you do?' to the cab driver. He said, 'I'd go for legend.' I said, 'Yeah, that's what I thought.' So we went for a legend. That's why we're not coming back."
The entire Seinfeld catalogue is now available to stream on Netflix.
Copyright © 2021, ABC Audio. All rights reserved.