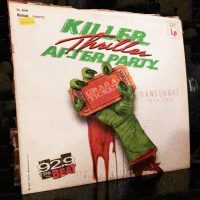 Here's a taste of the fun we had over the weekend at the Killer Thriller Afterparty! Big thanks to Savoy Ballroom for hosting another successful Killer Thriller Afterparty! Drinks were flowing, bodies were moving, and we all had our fair share of delicious food from Harter House! Thanks to DJ Valence as well for keeping those Halloween tunes going all night long!
This slideshow requires JavaScript.
The party wouldn't be complete without the Thriller dance and a moonwalk contest! Some of these dancers have been practicing all year for this.
Everyone's costumes looked amazing! Look at these zombies go!