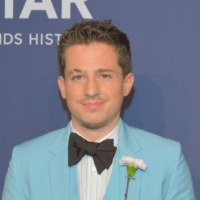 Elton John and Charlie Puth have released a new song, "After All," off Elton's upcoming album of collaborations, 'The Lockdown Sessions,' due out October 22nd. 'The Lockdown Sessions' also features collaborations with Dua Lipa, Eddie Vedder, Miley Cyrus, Lil Nas X, Gorillaz, Stevie Wonder, Stevie Nicks, Young Thug, and Nicki Minaj.
John says in a statement: "With 'After All' Charlie and I were in the studio, just the two of us. He's got a little home set up with his keyboards, synths, and Pro Tools. I played electric piano and actually wrote the song all the way through and then Charlie wrote the lyrics pretty quickly. He's incredibly quick, Charlie. We just had an amazing chemistry in the studio."
Puth added, "As a songwriter, I have admired and looked up to Elton John my entire life. It is truly incredible how the melodies and chords seem to come to him instantly whenever he sits down at the piano. I got to witness that firsthand when we wrote this song together. He is world-class and the true definition of a musical genius. Being a part of his musical journey is a dream come true."
John and Puth are both set to perform at the upcoming Global Citizen Live event in Paris, which will air on September 25th. They'll also go live together on TikTok on September 26th at 2 p.m. ET/7 p.m. in the U.K to discuss "After All" and The Lockdown Sessions.
Editorial credit: Ron Adar / Shutterstock.com