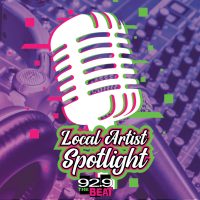 Welcome to the Covid-19 edition of the LAS! We love music (DUH!) and want to feature different local artists that you need to know about because SpringMO is FULL of amazing talent! This time, we're featuring i.V KiNG!!
Q: Ivy thanks so much for doing this!!! How would you describe yourself and your music cause I feel like you do a little bit of everything as far as musical instruments and talents go!
A:
I would describe myself as a bit of a wild child with a tender heart and I think that comes across in my lyrics and the emotion of my music. The wild child comes out in the drums ( if you have ever seen me play) and the lyrics and melodies of my songs would definitely make me seem like an emo kid. haha. So I would say you kinda get a really good blend of meaningful lyrics that are sometimes sad and masked with a lot of pop flair. My friends have been calling my new single, "dark disco" which I am super into if that's accurate- bc disco is my favorite genre.
If you have seen me perform as i.V KiNG you have probably seen me with a really crazy electronic setup- I make all my own music so I have been trying to master how to play that in a live setting with live looping, trigger pads, and some backing tracks. It has been a fun process over the last year! Overall, I think i am just trying to write something that matters. I don't see myself staying the same- I think people and art evolve and I am super here for that process and where it takes me musically.
Q: You play the drums, sing, play the piano/keyboard..whats your favorite to mess around with?
A:
I started playing drums at age 13- so while I have not mastered them by any means… I am definitely most comfortable with them. BUT- I have to say since I started learning keyboards about a year ago it has been my new favorite adventure. Turns out it is definitely a lot easier for me to write music with a keyboard than drums.
Q: Are you from Springfield or where are you originally from?
A: I am originally from Tulsa, OK. But I have lived in Springfield since I was 18- so my entire adult life has been spent there. I like Springfield a lot!
Q: Do you do covers and originals? Which is your favorite?
A: I do both! I love doing covers because you can instantly grab the attention of a listener that has no idea who you are as an artist- but there is nothing like gaining that person as a fan and then having them sing YOUR own songs. So for sure originals are my favorite!
Q: Whats your favorite thing about Springfield?
A:
Honestly, my friends. I have found the most wonderful people here. We also have some pretty good local food- but friends definitely win the competition.
Q: One totally random fun fact about yourself..it can be anything!
A: I really like hard boiled eggs.
Q: Any upcoming projects / gigs? Where can people find out more about you / listen?!
A: My debut single, "City Girl" is OUT NOW! It's on ALL streaming platforms. To find more info—- ivkingmusic.com