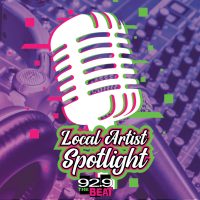 Welcome to our first Covid-19 edition of the LAS! We love music (DUH!) and want to feature different local artists that you need to know about because SpringMO is FULL of amazing talent! This time, we're featuring Justin Larkin!!!
Q: Justin, the one-man band from the Ozarks!! How would you describe your music?
A: I would call it a blend of rock n' roll, folk & soul. Stomp-heavy Americana with a little grit & some bluesy undertones.
Q: So you have your solo projects, but you're also in a group too right? Can you tell me a little about that?
A: I play guitar & sing in a rock band called Mood Ring Circus, and I play lead guitar with Joe Dillstrom & the C-Street Band, which is more roots-rock oriented. Both are based here in Springfield. I am also the touring bassist in a melodic doom metal band from Denver, CO named Alamo Black.
Q: Are you from Springfield, or where are you originally from?
A: I was born in San Clemente, California. I moved to Macks Creek, Missouri in '92 and stayed there through kindergarten. We moved to Greenfield, Missouri and I lived their until I finished 5th grade, and then in 2003 we moved to Nevada, Missouri, where I finished high school. While I've been visiting Springfield most of my life, I didn't officially live here until around 2010.
Q: Do you do covers and originals? Which is your favorite?
A: I do both. I've written a lot of songs that I have fun playing, but it's also fun to reimagine a good cover tune. At my gigs, I like to mix it all together. I cover stuff ranging from the '50s to now in addition to peppering in original material. I try not to be bound by any genre so there's something for everyone to enjoy when they see me play.
Q: What's your favorite thing about Springfield?
A: The music community, for one. Everyone is so tight-knit and we all build-up & support each other. We also have such a rich history of music in this town and it is an honor to weave into that tapestry & grow above its roots. Bands that are from here, for example the Ozark Mountain Daredevils, they kind of laid the groundwork for what I do and are big inspirations for me. I believe this area has its own sound that is special and unlike anywhere else. I know a lot of people say that about where they live, but I believe it. I also adore the landscape of this part of the country. Between the rivers and the rolling hills, you'd be hard-pressed to find a better place to be, if you ask me, but I am a little biased.
Q: What is one totally random fun fact about yourself…it can be anything!
A: Growing up, I wanted to be a professional skateboarder. I skated every day. About a week before I started 8th grade, I was hit by a truck riding my bike, and shattered the bones in my left leg. Wheelchair bound for months, I couldn't skate anymore and I picked up guitar. So, getting hit by a truck was one of the best things that ever happened to me.
Q: Do you have any upcoming gigs? Where can people find out more about you / listen?
A: I am hopping around a bit this month:
Sunday, August 9th : Dog Days Bar & Grill in Osage Beach, MO 2pm-6pm
Thursday, August 13th : Bear Creek Wine Company in Walnut Shade, MO 6pm-9pm
Saturday, August 15th : Pour Bros. Taproom in Champaign, IL 8:30pm-11:30pm
Friday, August 21st : Public House Taproom in Rolla, MO 7pm-10pm
Saturday, August 22nd : Sips in Branson, MO 8pm-10:30pm
Tuesday, August 25th : Aviary Café by Lavendar Falls (Farmer's Park) in Springfield, MO 6pm-9pm
Thursday, August 27th : Bear Creek Wine Company in Walnut Shade, MO 6pm-9pm
Friday, August 28th : Rapp's Barren Brewing Company in Mountain Home, AR 8:30-11:30pm
Saturday, August 29th : Beard Engine Brewing Company in Alba, MO 6pm-8pm
My next big show will be at a music festival called Bash in the Grass at Jack Mountain Amphitheater. I'll be playing there with Mood Ring Circus, Alamo Black, as a solo act, and as a duo with my partner Samantha Hubler. It's September 4th-7th.
Stream and Buy Justin's music here: