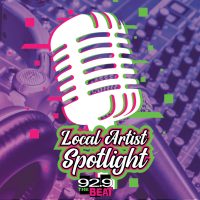 Welcome to the Covid-19 edition of the LAS! We love music (DUH!) and want to feature different local artists that you need to know about because SpringMO is FULL of amazing talent! This time, we're featuring Matteson Gregory!

Q: First, just want to say thanks so much for doing this!! We have so much talent here in Springfield, of all different genres too which is cool. How would you describe yourself and your music?
A: Thanks so much for having me! I would describe my music as pop and singer-songwriter. I've always written my own songs from my own experiences because I really want people to connect with my music. As a person, I would describe myself as caring, loyal, and determined. I've always tried to do my best and I'm always there for people who need it.

Q: Are you all from Springfield or where are you originally from?
A: I was originally born in Phoenix but I've lived in Branson since the age of 3.

Q: I was listening on Spotify and you have some great original songs! How long have you been writing?
A: I've been writing since I was 12 which was around the same age I started playing guitar. I just sat down one day with my guitar and lyrics started coming out. It just sort of came naturally.
Q: Do you play any instruments??
A: I play guitar and piano. I'm no Jimi Hendrix or Billy Joel but I love knowing how to play a little bit of each because it helps me write more songs. Like a love song I may start writing on a piano but the way the melody goes it might end of playing it on guitar. I guess it helps me get more creative with songwriting.
Q: Whats your favorite thing about springfield?
A: One of my favorite things about Springfield is all the local coffee shops like the Mudhouse and Potters house. I'm a complete Gilmore Girl when it comes to coffee so I really love how there are so many local coffee shops and they are so inviting and cozy!
Q: One totally random fun fact about yourself..it can be anything!
A: Ummm I can wiggle my ears
Q: Any upcoming gigs or exciting projects?? Where can people find out more about you / listen?!
A: I have two gigs coming up in Fayetteville at Six Twelve Coffeehouse and Bar. One on November 29 from 7-9 and the other December 20 from 7-9. As far as new music goes I probably won't record anything until next year.
Awesome!! Thanks again for doing this. Check out Matteson here, It's her single, War With Myself. See ya next time on the LAS!!!