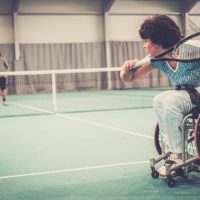 This is the first time anyone from the Show Me State has won the competition!
History was made over the weekend as the first representative from Missouri has been crowned Miss Wheelchair America 2020.
Hillary Muehlburger is from Greenwood Missouri, just outside of Kansas City and she won the weeklong competition which was not about looks but about changing lives in the disability community.
Hillary was judged on a series of interviews and her whole platform and speech was about achieving independence through adaptive sports.
Hillary herself plays adaptive tennis and is planning on competing in the wheelchair competition at the U.S. Open.
She uses a wheelchair for mobility because of a spinal cord injury she got back in 2015 and says that it's the best thing that ever happened to her.
Which is hard to process, hearing that something so tragic could be a blessing in disguise.
Congrats to Hillary and way to represent the Show Me State!