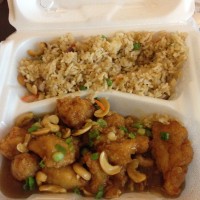 My adventures in Springfield are just beginning. I've only been in town a little over a week, but I'm anxious to fit right in and be one of the locals. So where do the locals eat?
You called in the other morning and gave me plenty of suggestions, but one particular restaurant kept coming up and with good reason- it's the home of Springfield-style cashew chicken!
First of all, let me say that I love cashew chicken. It's one of my go-to Chinese foods so it didn't take much convincing to get me to try Leong's Asian Diner.
Even though cashew chicken is one of my favorites, I'm not really sure if I've ever heard of Springfield-style cashew chicken before or even knew it was a thing.
If you live in the Springfield area, I'm sure you know the story of Leong's in Springfield so I'll spare you the history lesson, but it's definitely a Springfield staple.
My trusty Google maps got me to Leong's on Republic just off the James River Freeway without incident. For the record, I get anxious driving in unfamiliar towns, but Leong's was super easy to find.
With all the hype about Leong's I was a little worried that it wouldn't be all it's cracked up to be, you know?
But Leong's did not disappoint!
What makes Leong's cashew chicken different, and this is my favorite part, the chicken is deep fried…does it get any more Midwestern than that?!
I love deep fried anything so Leong's cashew chicken satisfies two of my cravings: fried foods and Chinese food. It's like the best of both worlds!
After having the OG cashew chicken however, it's made me curious about other versions out here in Springfield. Eventually I'd like to try them all!
Thankfully my coworkers filled me in on the gloriousness that is Cashew Craze. Dozens of Springfield restaurants serving cashew chicken in one convenient location?! Count me in!
-Lauren