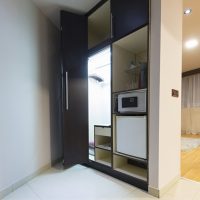 In my opinion, all airports should have one of these.
Washington D.C.'s Dulles Airport is about to launch a new micro hotel inside the airport!
The micro hotel can be found between gates A-6 and A-14 and it's pretty much exactly what you think it is.
The mini hotel has 16 small, stand-alone, sound-proofed rooms that can be rented, via the Sleepbox website or app.
You can rent them for as long as you want….  an hour or more, or overnight.
I love this idea!
Traveling can be unpredictable. Maybe you have a 4 hour layover or your flight straight up gets cancelled.
Now you can get some peace and quiet without panicking to find a nearby hotel!
And the good news is you don't have to sleep at your gate!
And the prices really aren't that bad- hourly rates will start at $25- $35 per hour or a twelve-hour overnight stays will cost about $120- $150.
I hate napping in public, it's kinda impossible at least for me.
So I think it would be great to find a nice quite place like these rooms to take a nap.
I'll pay 25 bucks for some peace and quiet, no problem!
And the crazy thing is, I'm actually flying to Dulles in a couple weeks
So i'll be sure to check it out…
Maybe I'll even test it out too!