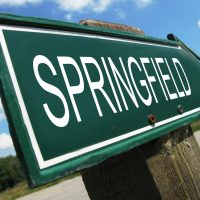 You may soon notice some new displays during your commute here in town.
The city of Springfield says they're going to update their dynamic message signs.
Those are the electronic signs MODOT uses along the roads to remind you to put the cell phone down or buckle up.
I saw one over Mother's Day weekend that said, "Buckle Up, love Mom." I thought that one was pretty cute!
Sometimes they get pretty witty with those signs….
But now we'll receive some new information on the signs as they'll soon include travel times to nearby exits or popular destinations.
For example, Sunshine: 3 minutes or Battlefield: 10 minutes. That sort of thing.
But do you ever wonder how they can even get that info, how are they accurate?
One source is the signals at major intersections, they can judge the flow of traffic.
The second, no surprise, is from your cell phone!
Cell phone companies provide ping times and they can tell how fast you're traveling.
Which is kind of a scary thought to think about….but that's how popular apps like google maps do it too.