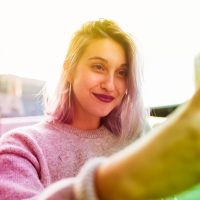 They're calling it "social commerce" and I don't like it!
Did you hear about this?!
Snapchat just debuted a new feature and I'm kinda freaked out right now.
It's code name is Project Eagle. It's a rare partnership with Amazon where you can take a picture of an object and Snapchat will then pull it up on Amazon, tell you how much it is, and if you follow the link it'll take you to Amazon where you can buy it right then and there.
It's kinda like a QR code reader or like, you know, when you take a pic of someone's Snapcode and it brings them right up on Snapchat?
It's kinda like that, only with shopping.
If you look for the feature now I'm not sure you'll find it as it's only rolling out to a small percentage of U.S. users first before Snap considers other countries.
They're calling it social commerce, which, I didn't even know it was a thing.
You see ads on Facebook and Instagram and such.
Our social platforms are becoming commerce platforms!
Which, I guess that was always their goal, to make money.
But it creeps me out enough on Facebook when I've only recently just talked of something and immediately it appears in my Facebook feed.
It's too much! Too far!
I'm so creeped out…
-Lauren