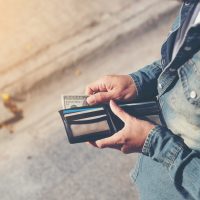 Here's another sign of the times, reports say the physical wallet is dying!
More and more folks are opting to use their smartphones, you know, like Apple Wallet and stuff.
Actually, I was at Starbucks the other day getting that Ariana Grande Cloud Macchiato (which is great by the way) but the guy in front of me used his phone to pay!!
And when I first saw it, it threw me off- I always forget that's even an option!
I do also have the Venmo app but I never use it. I had friends who paid their rent through Venmo so it's legit.
And think about things like your insurance card for your car…I keep that on my phone!
We're all about convenience, so that's the thought behind ditching the wallets but I would feel kinda naked without out.
The main reason people haven't completely let go of the wallet is security concerns.
Like can someone hack my phone and get into my account?
I put my boarding passes on my phone, concert tickets…I just lost my debit card and I thought maybe I could set up apple pay to pay for things in the meantime because I still have my bank account.
Now what are guys gonna put in their back pocket though?!
Would you be willing to ditch the wallet?
-Lauren