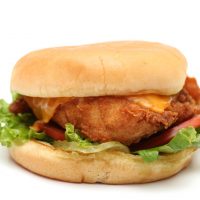 Select locations are testing out a new dine-in feature.
One of my favorite places to eat ever (shout out to Chick-Fil-A!) has a new trick up their sleeve.
Rumor has it that Chick-Fil-A is experimenting with call buttons at their tables.
Check this out, After placing an order, customers can punch buttons at the table to request the manager, service or order more food.
Locations in San Antonio, Denver and Indianapolis are testing the in-dining "call buttons" which were first featured at Chick-fil-a restaurant in Houston.
Do you think this is cool? I've seen overseas where restaurants use this because isn't it just awful having to flag someone down when you're ready for your check but no one is to be found?
This could eliminate a lot of that!
But I also feel like it's kinda rude and impersonal in a way.
But then again we, as a society are changing.
What do you think of the call buttons, yes or no?
-Lauren