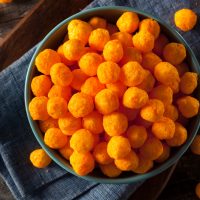 It's been 12 years since they've been on store shelves, but this delicious snack is only back for a limited time!
Cheez Balls are a part of any 90's childhood.
They're one of my favorite junk foods!
I was super excited to hear Planters has finally brought back their famous Cheez Balls and Cheez Curls.
I never thought to question it until now, but why was the nut company making "cheese" products….and WHY were they so good?!
Cans will retail for $1.99 and at the moment are only available online, but look for them on store shelves soon!
-Lauren
You craved, I listened. #CheezBalls are back July 1 at select stores and online! Get 'em while they're… cheezy. https://t.co/mk5iY4lr03 – Mr. ???????? #SayCheezBalls pic.twitter.com/7nw7qhCFdh

— Mr Peanut (@MrPeanut) June 26, 2018