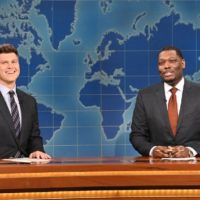 Saturday Night Live paid tribute to one of its own during its season 47 premiere. The sketch show honored Norm Macdonald during its "Weekend Update" segment, which the comedian used to host.
Macdonald, 61, died September 14 after a private years-long battle with cancer.
Colin Jost and Michael Che called the season 47 debut "a bittersweet night for us" and shared their memories of the late actor.
"Norm is the reason that I ever wanted to do 'Weekend Update,'" said Jost. "…So tonight, we thought we'd turn the last few jokes of 'Update' over to Norm."
The segment ended by revisiting some of Macdonald's memorable moments on "Weekend Update," featuring his scathing commentary about former President Bill Clinton and O.J. Simpson as well as his unique takes on the bizarre news headlines during his tenure — such as the so-called "snake man" climbing a Manhattan high rise.
The tribute ended with his famous sign off, "And that's the way it is, folks. Good night and good luck."
Macdonald starred on SNL between 1993 and 1998, hosting "Weekend Update" for three seasons.
Other memorable moments of the season 47 premiere included SNL's cold open, which teased the fractured Democratic party over President Joe Biden's $3.5 trillion dollar infrastructure bill. New cast member James Austin Johnson took on President Biden, while Cecily Strong and Aidy Bryant played Democratic Senators Kyrsten Sinema and Joe Manchin, respectively. Playing Democratic Congresswomen Ilhan Omar and Alexandria Ocasio-Cortez were Ego Nwodim and Melissa Villaseñor.
The two sides warred over what they wanted in the bill and always objected to the others' desires.
Strong's Sinema was portrayed as the villain and, at one point, she declared, "What do I want from this bill? I'll never tell, 'cause I didn't come to Congress to make friends — and so far, mission accomplished."
Saturday Night Live airs Saturdays on NBC.
Copyright © 2021, ABC Audio. All rights reserved.