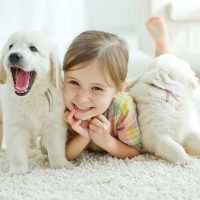 Orbit is the new therapy pet at this Ozarks elementary school.
Did you hear about that elementary school in Nixa?
Yeah they've got a new helper there at Century Elementary and I am so jealous of Orbit, the new therapy dog there at the school!
Orbit is a one and a half year old professional therapy dog and he's there to make school a little less "RUFF" for the kids!
Orbit wears his vest everyday to know he's on the job and is trained to be calm in any situation and can sense when someone is excited, angry, or upset.
I didn't even realize the benefits of having a therapy dog are more than just emotional, they're academic too.
The relieved stress of the therapy dog can affect students performance in school, you know, if you're happier you perform better
and it can also help a student who is maybe having difficulty communicating.
I love this part too, even more than a therapy dog Orbit has other jobs around the school- including delivering the mail!
This warms my heart!
Hey boss, can we get a therapy dog here at the station please?!
-Lauren