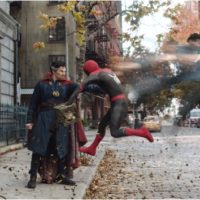 It wasn't Tom Holland who accidentally leaked precious secrets about an upcoming Spider-Man movie, but the 25-year-old actor did his part to hype the franchise's third installment before the official teaser dropped on Monday, following an alleged leak the day prior.
Taking to Instagram stories, Holland warned, "You ain't ready!"
Soon enough, Marvel dropped the official teaser-trailer for Spider-Man: No Way Home, which picks up right after Spider-Man: Far from Home's cliffhanger, where Jake Gyllenhaal's villainous Mysterio unmasks Peter Parker as Spider-Man and wrongfully accuses him of his murder.
The situation weaves a tangled web for Peter, who's grappling with losing his secret identity while trying to prove his innocence to the world, which dubs him "public enemy #1."
Desperate, Peter seeks out the help of Benedict Cumberbatch's Doctor Strange and asks if there's a spell to make everyone forget he's Spider-Man. Unfortunately, the spell goes haywire and sends the world plunging into chaos. Alternate multiverse realities begin to crash into one another, bringing back familiar faces from Spider-Man's past, including Jamie Foxx's Electro and Alfred Molina's Doctor Octopus. In addition, we can hear Willem Dafoe's chilling Green Goblin laugh.
The trailer ends with Strange's ominous warning: "Be careful what you wish for, Parker."
While the teaser features villains from past Spider-Man incarnations, it doesn't confirm if original Spider-Man Tobey Maguire or successor Andrew Garfield will also appear in the MCU as rumored. Maguire appeared in three Spider-Man films in the late 90s and early aughts, while Garfield took over the mantle in 2012 and 2014.
Spider-Man: No Way Home is a co-production of Sony Pictures and Marvel Studios. It swings into theaters December 17.
Marvel Studios is owned by Disney, the parent company of ABC News.
Copyright © 2021, ABC Audio. All rights reserved.
Photo courtesy of Sony Pictures ©2021 CTMG. All Rights Reserved. MARVEL and all related character names: © & ™ 2021 MARVEL