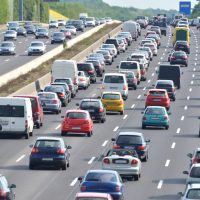 Three of the most deadliest stretches of road are right here in Greene County!
A law firm here in Missouri recently released the results of a 2 year study. They were trying to figure out the deadliest stretches of highways in Missouri.
Some of them are right here in Springfield!
I know, I know…with drivers like these it's no surprise…
The study says that James River from S Farm Road 135 to Fremont is one of the worst. Kansas Expressway, that stretch from Mt. Vernon to Battlefield is bad, and West Bypass from Chestnut Expressway to Bennett also made the list.
I'm not sure which stretches of highway I would have put on that list, but I know those sections in particular can get pretty busy.
The law firm that did this study, Wendt Law Firm in Kansas City, they said they did it to highlight the need for increased safety on the roads.
Maybe this will make folks think twice about their daily commutes and help them focus on the road better.
It's scary to think about you know, anything can happen on the roads!
I feel confident in my driving, it's just everyone else I'm afraid of!
Drive safe Springfield.
-Lauren