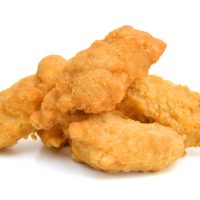 Pretty much every single fast food chain created their own version of a chicken sandwich.
It seems that the "chicken wars" of 2019 have not died down quite yet as KFC just announced a sandwich and now Taco Bell is rumored to be entering the running soon too.
A Taco Bell rep said that "I think a lot of players out there are doing a great job, but what I will say is that we will interrupt that with what we're going to do on chicken."
This absolutely hints at the fact that Taco Bell has been brewing up some ideas related to chicken!!!
The chain has also been spotted testing tortilla chip crumb chicken tenders and chicken wings in select markets.
It's unclear if either of those items will be getting tenured onto the Taco Bell menu for good, but once we know, we'll be sure to pass the news on to you.
EEKKKK!!! ~ Amber Nix