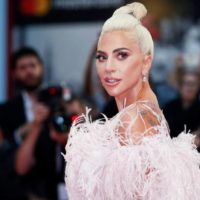 The official trailer for the upcoming true-crime drama 'House of Gucci,' starring Lady Gaga, has been released.
The Ridley Scott-directed film is centered around the iconic Italian fashion family, and Gaga stars as Patrizia Reggiani, who orchestrates the murder of then-husband Maurizio Gucci, played by Adam Driver. The real Reggiani, who earned the nickname "Black Widow," was convicted and sentenced to 18 years in prison for the 1995 killing. She was released in 2016.
'House of Gucci' is based on the 2001 book The House of Gucci: A Sensational Story of Murder, Madness, Glamour, and Greed, written by Sara Gay Forden. Along with Lady Gaga and Adam Driver, the film also stars Jared Leto, Jeremy Irons, and Salma Hayek.
'House of Gucci' hits theaters on Nov. 24.
Editorial credit: Andrea Raffin / Shutterstock.com