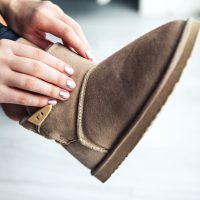 Turns out Uggs are more than just ugly, they're bad for your health!
A surgeon says Ugg and Ugg-type footwear may be putting us at risk for serious knee problems!
The surgeon says the boots could cause a "knock-kneed" stance which can lead to premature wear and tear of the joint all because the shoes offer insufficient foot support.
This triggers a poor stance, and therefore can eventually lead to cartilage damage.
Who knew!
Good think I don't own a pair of those fashion-don'ts!
-Lauren